Rated Products by Sundahus and byggvarubedömningen
Here below you can find all Eurolan products that´s been rated. It is an ongoing work and we update this page with new products as soon as they get done, so check out!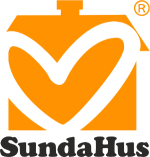 SundaHus offers property owners security, now and in the future, through a wide range of services for environmentally conscious material choices. With a web-based system and qualified counseling, SundaHus is a comprehensive solution for systematic efforts at phasing out hazardous substances in a building's lifecycle.
SundaHus i Linköping AB (publ) was founded in 1990 as a consulting company for the improvement of indoor environmental quality. Today it's a leading player in the field of health and environmental assessments of building materials.

Byggvaru-bedömningen is a non profit organization owned by large constructors and property owners in Sweden.
Their mission is to:
Enable wise choises of material for a good living environment
Enable good documentation of built in materials for future management
Stimulate producers of materials to improve their products from an environmental perspective
Stimulate the producers of materials to take social responsibility in their supply chain
Be a good and effective tool for documentation and tracking of materials, products and their content
CABLE
4903203 C6 4 pair UTP LSZH Slimline Dca 305m/box
4903205 C6 4 pair UTP LSZH Slimline Dca 500m/reel
KEYSTONE JACK
5147286 Eurolan Keystone RJ45 Cat 6 black
5147285 Eurolan Keystone RJ45 Cat 6 white
5147287 Eurolan Keystone Toolless RJ45 Cat 6 black
5147288 Eurolan Keystone Toolless RJ45 Cat 6 white
5140041 Eurolan Keystone RJ45 Cat 6 white 100pcs
PANEL
5120075 Eurolan Patchpanel 1U 24 port Keystone snap-in
CABLE
4903203 C6 4 pair UTP LSZH Slimline Dca 305m/box
4903205 C6 4 pair UTP LSZH Slimline Dca 500m/reel
KEYSTONE JACK
5147286 Eurolan Keystone RJ45 Cat 6 black
5147285 Eurolan Keystone RJ45 Cat 6 white
5147287 Eurolan Keystone Toolless RJ45 Cat 6 black
5147288 Eurolan Keystone Toolless RJ45 Cat 6 white
5140041 Eurolan Keystone RJ45 Cat 6 white 100pcs
PANEL
5120075 Eurolan Patchpanel 1U 24 port Keystone snap-in
CABLE
4902005 C6a 4pair U/UTP LSZH White DCA 500m/reel
KEYSTONE JACK
5140252 Eurolan Keystone Cat 6a UTP Q-toolready, white
PANEL
5120071 Patchpanel 1U 24 port C6A Keystone snap-in
CABLE
4902005 C6a 4pair U/UTP LSZH White DCA 500m/reel
KEYSTONE JACK
5140252 Eurolan Keystone Cat 6a UTP Q-toolready, white
PANEL
5120071 Patchpanel 1U 24 port C6A Keystone snap-in
CABLE
4903215 Eurolan C6A 4 pair U/FTP LSZH Dca 500m/reel
4903225 Eurolan C6A 4 pair F/FTP LSZH Dca 500m/reel
4903235 Eurolan C6A 4 pair S/FTP LSZH Dca 500m/reel
KEYSTONE JACK
5140029 Eurolan Keystone RJ45 Cat 6A silver
5147291 Eurolan Keystone RJ45 Toolless Cat 6A silver
PANEL
5120071 Patchpanel 1U 24 port C6A Keystone snap-in
CABLE
4903215 Eurolan C6A 4 pair U/FTP LSZH Dca 500m/reel
4903225 Eurolan C6A 4 pair F/FTP LSZH Dca 500m/reel
4903235 Eurolan C6A 4 pair S/FTP LSZH Dca 500m/reel
KEYSTONE JACK
5140029 Eurolan Keystone RJ45 Cat 6A silver
5147291 Eurolan Keystone RJ45 Toolless Cat 6A silver
PANEL
5120071 Patchpanel 1U 24 port C6A Keystone snap-in
OUTLETS
5118514 Eurolan Faceplate 86x86 1xAngled Keystone
5118515 Eurolan Faceplate 86x86 2xAngled Keystone
5118516 Eurolan Wall box 40mm white
BOXES
5118508 Eurolan Wall mount box 1xKeystone
5118507 Eurolan Wall mount box 2xKeystone